Our clients choose acupuncture when they are sick or their body is damaged, and also as a preventative measure to balance their body's systems and promote general resiliency within.
---
What is Acupuncture?
Traditional acupuncture involves needle insertion, moxibustion, and cupping therapy. Acupuncture originated in China around 100 BC. It involves a needling technique where, after your skin is sterilized, ultra fine needles are inserted quickly with a plastic guide tube. These acupuncture needles can be left for a short period of time in order to stimulate energy points on your body. It all will depend on the area, and your specific condition that is being treated.
An experienced acupuncturist may manipulate the needles in various ways, and this may involve spinning, flicking, or moving the needle up and down relative to the skin. The needles, once inserted, may cause a dull, localized or aching sensation. This feeling is referred to as "de qi".
---
What is Qi?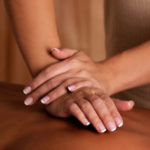 Your Qi is your life energy. We all have Qi running throughout our body, and it does so within an integrated system of channels, or meridians. If you have an imbalance or obstruction of Qi, most often health problems and pain will manifest. This is the core philosophy of Traditional Chinese Medicine, and an increasing number of medical practitioners have been studying and adopting this alternative method of promoting healing.
Our acupuncturist, Cynthia Leung, also uses Tui na massage, which is a Traditional Chinese Medicine, or TCM, method of stimulating the flow of Qi using her bare-hands. This means that acupuncture treatment does not always involve needles.
---
---
Does Acupuncture Work?
The point of acupuncture treatment is to remove the blockage and then balance the Yin and Yang in your body. At Absolute Health, we offer and practice this holistic way of health care from ancient China because we believe acupuncture is a method to help your body engage with it's natural healing process. Your body, when stimulated with acupuncture, can produce wonderful results, and our clients have great things to say about their experience with Cynthia Leung.
---
"Cynthia is very knowledgeable in her field and has she has helped me with countless back and shoulder pains. She always provides additional tips on what I should be doing to prevent these issues in the future." – Patient, RateMDs Testimonial August 26, 2016
---
Acupuncture is More than Just Pain Relief
Many people are fascinated by how acupuncture works. If you want to learn more about the complex system of Qi, the Alberta College of Acupuncture and Traditional Chinese Medicine has put together a great video to help you understand more. Click on the video below.
---
---
Is Acupuncture Effective?
A lot of people are skeptical of acupuncture, even some medical professionals. However, many studies have been done over the years to learn about the effectiveness of Traditional Chinese Medicine, including how or if acupuncture can cure certain ailments. Therefore, many diseases and conditions have been researched through scientific studies which challenge acupuncture as an appropriate treatment.
Since acupuncture is a complete medical system, it has been proven to be an excellent compliment to other treatments too, including western pharmaceuticals & surgery, herbal therapies, massage and chiropractic. It is a well known method used to speed healing and reduce pain. Both the National Institutes of Health and the World Health Organization endorse acupuncture as being effective treatments for numerous conditions.
The fact is, a vast majority of clients report that they eventually feel an increased sense of well-being, almost a euphoria or zen-like state of mind and well-being.
---
What Does Acupuncture Treat?
Acupuncture is a drug-free, non-surgical treatment for many ailments and disorders.
Musculoskeletal and Neurologic – Most people who go for acupuncture are treated for musculoskeletal problems, including low back pain and stiffness, shoulder pain and stiffness, and knee pain. It is worth investigating to see if acupuncture can help you reduce any long term pain and discomfort in your muscles or bones, especially neck pain, knee pain, ankle pain, and sciatica.
Many clients seek out acupuncture treatment to relieve their headaches and migraines.
---
"Cynthia has helped me with many ailments over the years including back pain, headaches, menstrual cramps, allergies and disrupted sleep. She's knowledgeable, efficient and always on time. I highly recommend her." – Patient, RateMDs Testimonial August 17, 2016
---
We take great care in helping patients of all age ranges, including the young and old, and those with mobility issues. Maybe you are experiencing facial paralysis or trigeminal neuralgia, you have had a stroke, suffer from ongoing muscle pain, arthritis, osteoarthritis, or inflammation. Not only is it safe to treat pregnant women who suffer from a range of symptoms, it is also safe for children. According to new research, acupuncture can be a safe and effective treatment strategy for treating children with chronic pain.
For Post-Operative Pain – Another study also has revealed that Acupuncture before and during surgery significantly reduces the level of pain and the amount of potent painkillers needed by patients after the surgery is over. Thus, it is becoming very popular as a combination treatment by doctors in Western Europe and North America. In early 2009, the US Air Force began teaching "Battlefield Acupuncture" to physicians deploying to Iraq and Afghanistan.
Reproductive and Menopause Symptoms – Acupuncture can help with pre-menstral syndrome (PMS), irregular menstruation, menstrual cramps, menopausal symptoms, hot flashes, low libido, impotence, infertility and sexual dysfunction.
---
"Cynthia has a very cheerful demeanor, made me feel comfortable and confident in her treatment. She helped relieve my shoulder pain, and I haven't had menstrual cramps for months!" – Patient, RateMDs Testimonial December 2, 2013
---
Personal Injury – We treat injuries that occur at work or in the office, such as carpal tunel syndrome, and trauma caused by a motor vehicle accident (MVA). We have seen athletes with sports injuries such as tennis elbow, sprains, and tendonitis.
Mental-Emotional – It is also effective in treating emotional disorders such as phobias, grief, anger, stress, anxiety, depression, and insomnia.
---
"Cynthia is very efficient yet personable and has a good bedside manner. Her treatment relieved my night sweats and helped me to sleep through the night again." – Patient, RateMDs Testimonial November 8, 2011
---
Internal – Acupuncture can help relieve dizziness, low energy, chronic fatigue, cold limbs, asthma, indigestion, constipation, diarrhea, and irritable bowel syndrome. A study found that acupuncture can help indigestion symptoms commonly experienced by pregnant women.
Cardiovascular – As far as the health of your heart and cardio system goes, a new study suggests that acupuncture may reduce high blood pressure and lower the risk of stroke and heart disease.
Mysterious symptoms – With fibromyalgia affecting an estimated 5 million North Americans, most who are female, a new study says that tailored acupuncture can provide some relief to ongoing suffering from fibromyalgia.
Problems with your eyes, ears, nose and throat – Acupuncture can assist with hay fever, allergies, sinusitis, ringing in the ears, and a sore throat. It can help you deal with everyday infections such as common colds, flu, and bronchitis.
Side effects – Acupuncture can reduce the side effects of cancer treatments and hormone replacement therapies. Another study found that acupuncture offers effective relief from hot flashes in women who are being treated with the anti-estrogen tamoxifen following surgery for breast cancer.
Addiction – Acupuncture is also used to discourage bad habits. It's used for weight loss and to quit smoking.
---
"Cynthia is very gentle in her treatments. She's always taking my comfort and concerns her priority when treating me since I have a slight fear of needles." – Patient, RateMDs Testimonial August 26, 2016
---
About Cupping Therapy
The cupping therapy that Cynthia Leung offers is another ancient Chinese form of alternative medicine. Cynthia will place a glass cup upon your skin, at a strategic energy point, and create suction to mobilize blood flow. This is another method used at Absolute Health to promote healing.
---
---
Acupuncture and Cupping Treatment Pricing (effective April 6, 2020)
(Cynthia Leung accepts Visa, Mastercard, Interac, cash and cheques)
---
60 Minute Session = $85
---
30 Minute Session = $45
---
Cupping Session 15 Minutes = $25
---
Cynthia Leung's Hours and Availability:
---
Monday through Friday
---
Saturdays